Highly Experienced Surgeons
High Success Rates
Trusted, Transparent & Affordable
All Insurance Accepted
20 Lac +

Satisfied Customers

10

Fully Automated Labs

150+

Surgeons
What is Pilonidal Sinus?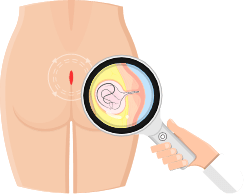 What is Pilonidal Sinus?
Pilonidal sinus or more commonly known as PNS is a chronic skin infection wherein a tunnel or a small hole develops in the crease of the buttocks and is generally filled with pus and fluids. PNS is known to be a common skin ailment in men and young adults (due to the onset of puberty, which facilitates body hair growth).
The pilonidal sinus is often composed of dirt, hair, and debris, and can cause severe pain due to the infection, thus hampering mobility and the ability to sit. PNS is mostly observed in individuals who sit for long periods, like cab drivers and white-collar workers.
Causes of Pilonidal Sinus

Prolonged sitting

Puberty

Hair splinter

Friction from tight fit clothes

Hormonal changes
Symptoms of Pilonidal Sinus

Sore and reddened skin

Protruding hair at the lesion site

Persistent pain while sitting or standing

Foul-smelling blood or pus at the lesion site

Irritation at the infection site
Diagnosis & Pilonidal Sinus Procedure
Diagnosis
The diagnosis for pilonidal sinus is conducted by a proctologist via a physical exam, where the doctor examines the infected area around the anus. Based on the observations, PNS is confirmed and the appropriate pilonidal sinus treatment is recommended.
Surgery
Non-surgical: Treatment for pilonidal sinus differs from case to case and the severity of the PNS infection. If the infection is caught early, then the doctor might simply prescribe broad-spectrum antibiotics, without the need for any invasive pilonidal sinus surgery procedure. This won't heal the infection but will provide relief from the pain and irritation. Follow-up examinations will be recommended by the doctor for continuous treatment.
Surgical: In most cases, pilonidal sinus surgery is required to remove the pus, hair, and debris from the sinus to start the healing process. The two most common pilonidal sinus surgery procedures include:
Lancing: This pilonidal sinus surgery is aimed at reducing the symptoms of the abscess, the collection of pus in the sinus. The procedure is conducted using local anesthesia. During the PNS surgery, the doctor opens the sinus using a scalpel and then cleans the infected area, removing blood, hair, and pus from the abscess. It takes about 4 weeks to recover from the Lancing surgery, whilst maintaining attention to anal hygiene.
Injections: This type of PNS surgery procedure is also conducted using a local anesthetic. The doctor will insert an antiseptic fluid, called Phenol, into the sinus to harden and close the lesion. However, the process has to be repeated several times, based on the efficacy of the first attempt.