Highly Experienced Surgeons
High Success Rates
Trusted, Transparent & Affordable
All Insurance Accepted
20 Lac +

Satisfied Customers

10

Fully Automated Labs

150+

Surgeons
What is Piles?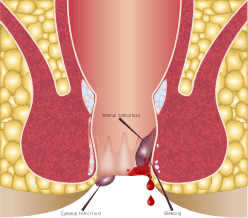 What is Piles?
Hemorrhoids or more commonly known as piles is a condition that is prevalent in men but is also experienced by women, especially during pregnancy and childbirth. Piles create a bunch of inflamed veins in the lower rectum region or around the anus which may cause pain, intense itching, and severe discomfort while sitting, or performing any physical activity. Piles can occur both inside and outside of the anus, with the external ones being the most painful.
Piles are commonly found in adults around the age of 50 and about 50% of all men in the age group are afflicted by this condition.
Painless piles surgery is now readily available with same-day piles surgery procedure by our experienced proctologists.
Causes of Piles

Excessive Constipation

Severe Diarrhea

Being Overweight

Heavy Lifting

Pregnancy
Symptoms of Piles

Anal bleeding

Itching or irritation in the anus

Discomfort in sitting or any other physical activity

Inflammation around the anus

Mild anal pain
Diagnosis & Piles Surgery Procedure
Diagnosis
The diagnosis for piles is a combination of the doctor's evaluation of the symptoms and several physical tests. The three major diagnostic tests include:
Rectal exam: The doctor examines the rectum using a gloved and lubricated finger. This test looks for inflamed veins which denote the presence of piles.
Sigmoidoscopy: An illuminated medical tube with a camera is inserted into the rectum to examine the lower part of the colon, also called the sigmoid.
Anoscopy: This procedure involves the insertion of a lighted tube (without a camera), which enables the doctor to visually examine the lining of the rectum and the anus.
All three tests are generally same-day procedures and do not require the need for anesthesia. Each of the procedures can be quite uncomfortable, but not particularly painful.
Surgery
In most cases, piles or hemorrhoids may not require medical intervention and heal on their own with certain lifestyle changes and precautions. However, in severe cases, a surgical procedure called hemorrhoidectomy is required to remove the hemorrhoids from the afflicted region. This surgical process can either be performed via conventional or laser surgery. The surgeon makes an incision in the anus and then removes the inflamed vein, which removes piles entirely from the rectum.