Highly Experienced Surgeons
High Success Rates
Trusted, Transparent & Affordable
All Insurance Accepted
20 Lac +

Satisfied Customers

10

Fully Automated Labs

150+

Surgeons
What is Gallstones?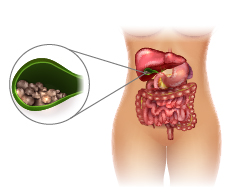 What is Gallstones?
Gallstones are small solid chunks that form in the gallbladder. The gallbladder is a small organ located below the liver and is responsible for the storage and release of bile, which helps in the digestion process. Gallstones vary in size, from the size of a grain to the size of a golf ball. Gallstones usually do not cause any symptoms until they block a bile duct. The blockage causes excruciating pain that requires immediate medical attention.
Causes of Gallstones

Excessive cholesterol in the bile

Concentrated or thick bile

Obesity

Family history of gallstones

Diabetes
Symptoms of Gallstones

Pain in the upper abdomen. Right side, under the ribs

Upset stomach

Vomiting

Indigestion, heartburn, and gas

Yellow or jaundiced eyes and skin
Diagnosis & Gallstones Procedure
Diagnosis
Based on the severity of the pain, the doctor might conduct a physical examination and order diagnostic tests to confirm the presence of gallstones. Some of the common gallstone diagnostic tests include:
Blood tests
Ultrasound & CT Scan
Magnetic resonance cholangiopancreatography(MRCP)
HIDA scan or Cholescintigraphy
Endoscopic ultrasound
Endoscopic retrograde cholangiopancreatography (ERCP)
Surgery
In most cases, gallstones do not cause any discomfort or pain and pass through the body on their own. However, for bigger gallstones, the onset of severe abdominal pain is a sign of requiring immediate gallstones surgery intervention. There are two main types of gallstones surgery, which are:
Open cholecystectomy: An invasive surgical technique, this gallstone surgery involves the removal of the gallbladder. The surgeon makes sizeable cuts in the abdomen and removes the gallbladder. Post-op care requires the patient to stay at the hospital for a few days.
Laparoscopic cholecystectomy: Laparoscopic cholecystectomy is the most common and preferred gallstone surgery and is the least invasive. This gallstone treatment entails the insertion of a narrow tube into the abdomen. Via another minor cut, the gallbladder is removed, thus eliminating the condition. It's a one-day procedure, and the patients generally go back home the same day.