Highly Experienced Surgeons
High Success Rates
Trusted, Transparent & Affordable
All Insurance Accepted
20 Lac +

Satisfied Customers

10

Fully Automated Labs

150+

Surgeons
What is Anal Fistula?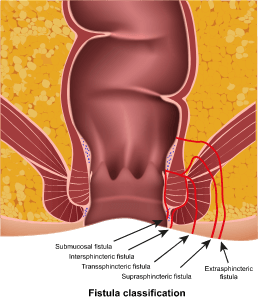 What is Anal Fistula?
A fistula is an irregular connection or a sort of tunnel that links two organs that are not supposed to be connected. An anal fistula is a tunnel that forms a bridge between the anus and the end of the bowel. This connection generally develops due to an infection in the vicinity of the anus with the accumulation of pus. Although not extremely painful, yet anal fistulas can be quite discomforting and causes skin irritation, which can make a dent in your daily activities.
Causes of Anal Fistula

Locked glands of the anus

Bacterial buildup causing an abscess (pus)

Sexually transmitted diseases (STD)

Tuberculosis (TB)

Radiation therapy
Symptoms of Anal Fistula

Regular formation of anal abscesses

Bleeding

Pain with bowel movement

Fever and chills

Persistent fatigue
Diagnosis & Anal Fistula Procedure
Diagnosis
Fistula's diagnosis requires a physical exam along with a detailed overview of your medical history. During the physical examination, the doctor will search for a skin opening that will enable him to figure out the fistula or the tract's depth and direction. A significant sign of a fistula is drainage from the existing external opening. While most of the skin openings are external, in a few cases, the fistulas can form internally too. To examine and determine the nature of the internal fistula, the doctor can recommend several diagnostic tests, which include:
Anoscopy: An invasive diagnostic test entails the use of specialized equipment to observe the inside of the anus and the rectum.
Imaging: An MRI and/or ultrasound test can also be used to better observe the location and behavior of the fistula.
Surgical: In extreme cases, exploratory surgery might be required to diagnose the nature of the fistula.
Surgery
Surgery is almost always the need of the hour to treat fistulas as there is no medication available for the cure. Fistula surgery is performed by a colon or a rectal specialist with the express goal of removing the fistula while preserving the anal sphincter muscles. The two most common fistula surgical procedures are fistulotomy and laser surgery.
Fistulotomy: One of the most frequently performed fistula surgeries is fistulotomy. This surgery for the fistula is usually a one-day procedure and is conducted to open the fistula and allow it to heal on its own. Depending on the size of the fistula, the surgery can either be performed in the doctor's office under local anesthesia or an operating room under general anesthesia.
Fistulectomy: Unlike fistulotomy, fistulectomy aims at the complete removal of the fistula. However, as there may be a risk of damage to the anal sphincters, fistula removal surgery is not often recommended. Fistulectomy is performed in the event of excessive tissue blockage and if there are increased chances of fistula recurrence.