Honest Pricing
Highly Experienced Radiologists
Advanced Imaging Diagnostics
Trusted, Transparent & Affordable
20 Lac +

Satisfied Customers

8

Fully Automated Labs

130+

Radiologists
What are PFT tests?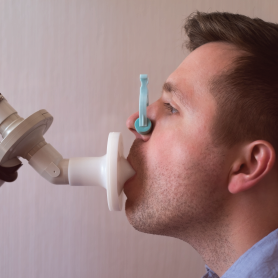 What are PFT tests?
Pulmonary function tests or PFT tests are an assortment of painless and non-invasive diagnostic tests that are conducted to evaluate lung function. These tests measure the lung's capacity, volume, rate of flow, and gas exchange.
The results of PFT tests enable doctors to create an effective treatment plan for a variety of lung-related illnesses and disorders.
This group of tests can detect and identify various lung disorders. As each lung condition might manifest a different set of symptoms, hence each recommended test will depend on which condition and what symptoms you might be suffering from.
Pulmonary function tests are also conducted before surgeries to check the state of lung functions of smokers and patients with heart conditions.
There are eight types of pulmonary function tests. These include:
Spirometry: This PFT test type is one of the most frequently ordered lung tests, which measures the quantity of air inhaled and exhaled. It also evaluates how quickly your lungs can push the air out
Body plethysmography: The body plethysmography test requires you to take a deep breath to measure the amount of air in the lungs. This test also measures the amount of air left in the lungs after exhalation
Lung diffusion capacity: This PFT test type is conducted to evaluate how thoroughly the air goes from your lungs and into the bloodstream. The process for lung diffusion capacity test is similar to spirometry
Bronchial provocation test: The bronchial provocation test is administered specifically to diagnose asthma and its severity. The test checks your airways to determine how narrow they get during an asthma attack
Cardiopulmonary exercise stress test: This PFT test type is a dual-purpose lung test that evaluates the strength of both the lungs and the heart. This PFT test type is usually recommended for people suffering from heart diseases and/or lung issues
Pulse oximetry test: This simple lung test is conducted to measure oxygen levels in the blood
Arterial blood gas test: Unlike other PFT tests, the arterial blood gas test is a simple blood test that checks the oxygen and carbon dioxide levels in the body
Fractional exhaled nitric oxide test: A variety of asthmatic conditions can lead to a rise in the nitric oxide levels in the body. The fractional exhaled nitric oxide level test measures the amount of this gas present in the exhaled breath
Why are PFT tests required?

To detect allergies

To detect COPD

To detect lung cancer

To detect lung infections

To detect asthma