Honest Pricing
Highly Experienced Radiologists
Advanced Imaging Diagnostics
Trusted, Transparent & Affordable
20 Lac +

Satisfied Customers

8

Fully Automated Labs

130+

Radiologists
What is an MRI scan?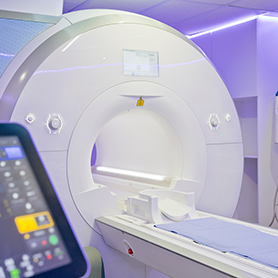 What is an MRI scan?
Magnetic resonance imaging or an MRI is one of the most frequently recommended image diagnostic tests that uses strong magnetic fields and radio waves in a controlled environment for high-quality pictures of the organs, tissues, and bones.
The MRI scan is a vital tool for doctors to identify and diagnose a host of ailments. This image diagnostics procedure is superior to a CT scan, as it produces 3D images, which offer enhanced depth and clarity for diagnosis.
The MRI scan is also considered to be the safest image diagnostics tool because of the lack of radiation, which typically is a standard component of other imaging tests, barring an ultrasound.
The magnetic and radio waves provide clear, digital images of the target area onto a display screen. The procedure generally takes 30 minutes to complete, however, the time can vary depending on the medical condition and the type of MRI test ordered.
The inception of MRI scans has revolutionized imaging diagnostics by providing healthcare professionals with the means to accurately identify a variety of illnesses, thus recommending the most effective treatments. An MRI scan is mostly ordered in case of chronic conditions.
The type of MRI scan the doctor recommends depends on the medical issue that the test is for. The following are the main MRI scan types that are ordered most frequently:
Functional MRI: This MRI scan type is used to observe the brain activity of the patient, by monitoring the blood flow. The cerebral region in use shows an increased blood flow. Functional MRI is generally conducted to map the brain's functional areas.
Magnetic Resonance Angiography: MRA or Magnetic Resonance Angiography uses contrast material to scan and observe the movement of blood vessels. This MRI scan type is primarily used to scan the heart and soft tissues while assessing the blood flow.
Magnetic Resonance Venography: MRV or Magnetic Resonance Venography also uses intravenous contrast dye to observe and monitor the veins. The MRV provides a clear picture of the veins and the blood vessels and is used to identify the cause of leg pain as well as other vein-related issues.
Cardiac MRI: As the name suggests, a cardiac MRI is specifically performed for cardiovascular issues. This MRI type scans the heart and its structures to locate and identify heart-related issues.
Why is an MRI scan required?

To detect bone & joint disorders

To detect breast cancer

To detect cardiovascular diseases

To detect liver & womb cancer

To detect brain & spinal issues