Honest Pricing
Highly Experienced Radiologists
Advanced Imaging Diagnostics
Trusted, Transparent & Affordable
20 Lac +

Satisfied Customers

8

Fully Automated Labs

130+

Radiologists
What is an ECHO scan?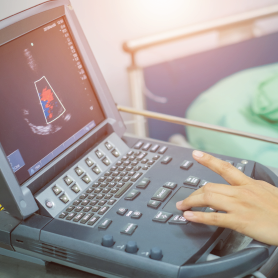 What is an ECHO scan?
An echocardiogram (ECHO) is a type of ultrasound scan that is conducted to evaluate the heart and the nearby blood vessels.
This test aims to monitor and assess the functioning of the heart and valves. It also enables a cardiologist to evaluate the blood flow in the blood vessels and to monitor the heart's pumping chambers.
An echo works on the same principles as that of ultrasound, using high-frequency sound waves that bounce off of different parts of the heart. This, in turn, produces high-quality images which are displayed on a screen.
This heart test is a non-invasive and painless diagnostic procedure. For additional clarity and depending on the cardiac condition the test is being conducted, the echo can also be paired by Doppler ultrasound and colour Doppler scans.
There are two main types of frequently recommended echocardiograms. These are:
Transthoracic echocardiogram: The frequently ordered echo test, the Transthoracic echocardiogram is conducted to evaluate your overall heart health as well as to measure the contraction of the heart's muscles.
Stress echocardiogram: This echo test type is conducted to ascertain your's heart's functioning while stressed. The test typically includes physical exertion induced stress with the help of a workout cycle, a treadmill or by administering Dobutamine, to make your heart beat faster.
Why is an ECHO scan required?

To assess damage from a heart attack

Infection of the heart's valves (endocarditis)

Congenital heart disease

Cardiomyopathy

Heart failure