Honest Pricing
Highly Experienced Radiologists
Advanced Imaging Diagnostics
Trusted, Transparent & Affordable
20 Lac +

Satisfied Customers

8

Fully Automated Labs

130+

Radiologists
What is an ECG test?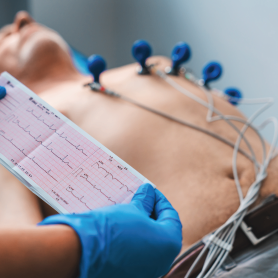 What is an ECG test?
An ECG or an electrocardiogram test is a non-invasive and painless diagnostic procedure that helps in the detection of heart issues as well as monitoring the overall heart health.
An ECG monitors the electrical activity of the heart as each heartbeat generates an electronic pulse that travels through the heart.
The electrical pulse contracts the arterial muscles which in turn pump the blood from the heart. The test detects and identifies any abnormal electrical activity, indicative of a heart illness or the risk of one.
The ECG checks for the electrical impulses made with each heartbeat which is displayed as 'waves' on the ECG machine. These impulses are categorised in three waves, namely:
First wave: The first wave is generated from the heart's upper chambers and is known as the 'P' wave. This wave is followed by a flat line when the electrical impulse reaches the heart's bottom chambers.
Second wave: The second wave is generated by the left and right bottom chambers with each electrical pulse. This wave is also known as the QRS Complex.
Third-wave: The third and final wave is known as the T wave, which indicates the ventricles going into a resting phase.
The ECG test is the ideal diagnostics tool to determine optimal functioning of the heart by evaluating the time it takes for the electrical pulses to pass through the heart.
This helps the doctor to determine whether the heart's activity is normal, fast, slow or irregular.
Why is an ECG test required?

To detect heart arrhythmia

To detect blocked arteries

To monitor ongoing heart treatments

To detect heart damage

To determine optimal heart rate